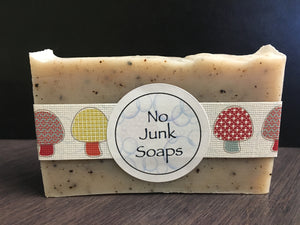 Great facial, hand or body soap.
Good for acne, poison ivy or any skin irritation.
Olive oil infused with comfrey root added for healing properties and ground comfrey root for exfoliation.
Lavender essential oil added for scent and calming properties.
Bring It Soap is a gorgeous lavender scented soap with comfrey root infused in the olive oil and ground comfrey root added for exfoliation and added benefits. Comfrey root is a herb know for healing the skin without drying it out. This added to the benefits of the lavender essential oil, this soap may bring it when it comes to healing properties.
This soap includes olive oil for a creamy lather, coconut oil which adds cleansing properties and larger bubbles in the lather, sunflower oil adding vitamin E and other essential fatty acids, shea butter feels luxurios and moisturizing on the skin, castor oil which draws moisture to the skin and creates amazing lather.
Distilled water was also used to aid in the saponification process and all oils in my soaps are saponified.
Ingredients: Olive Oil, Coconut Oil, Sunflower Oil, Shea Butter, Castor Oil, Water, Ground Comfrey Root and Lavender Essential Oil.
INCI Name Ingredients: Sodium Olivate, Sodium Cocoate, Sodium Sunflower Seedate, Sodium Shea Butterate, Sodium Castorate, Aqua, Symphytum Officiale and Lavandula Augustifolia (Lavender) Flower Oil.