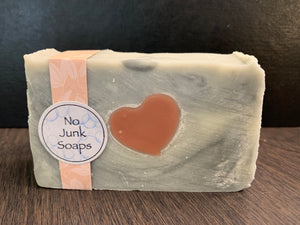 Great hand, face and body soap.
Lavender and Litsea essential oils used for a calming, fresh scent.
All You Need Is Love Soap is a refreshing soap scented with lavender and litsea essential oils and coloured using white kaolin clay and charcoal swirled together with a rose heart in the center coloured with rose kaolin clay. This combination creates a visually soothing  soap with a floral, yet fresh scent that makes a great gift for any time of the year. 
This soap includes olive oil for a creamy lather, coconut oil which adds cleansing properties and larger bubbles in the lather, shea butter feels luxurious and moisturizing on the skin, castor oil which draws moisture to the skin and creates amazing lather. 
Distilled water was also used to aid in the saponification process and all oils in my soaps are saponified.
Ingredients: Olive Oil, Water, Coconut Oil, Sunflower Oil, Shea Butter, Castor Oil, White Kaolin Clay, Rose Kaolin Clay, Lavender Essential Oil, Litsea Cubeba Essential Oil, and Activated Charcoal.
INCI Name Ingredients: Sodium Olivate, Aqua, Sodium Cocoate, Sodium Sunflower Seedate, Sodium Shea Butterate, Sodium Castorate, Kaolin, Lavandula Angustifolia (Lavender) Flower Oil, Litsea Cubeba Fruit Oil and Charcoal Powder.