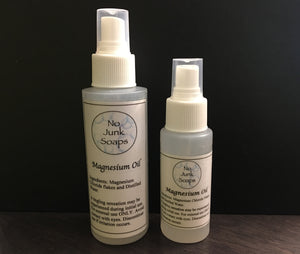 Magnesium oil is made from a mixture of magnesium chloride flakes and water. When these two substances are combined, the resulting liquid has an oily feel, but isn't technically an oil. Magnesium chloride is an easy-to-absorb form of magnesium that may be able to raise levels of this nutrient within the body when applied topically to the skin.
Magnesium is an essential nutrient that's depleted by stress, and it's credited with everything from easing post-workout soreness to improving digestion and boosting sleep quality. It may promote restful sleep by relaxing the body and mind, encouraging an overall sense of calm. Maintains and promotes healthy joint and muscle function and can be applied directly to sore muscles, joints, cramping and muscle spasms. Just to name a couple of the benefits. There are many websites that list approximately 13 benefits to magnesium oil. 
A tingling sensation may be experienced during initial use. For external use ONLY. Avoid contact with eyes. Discontinue use if irritation occurs. 
Ingredients: Magnesium Chloride Flakes and Distilled Water.