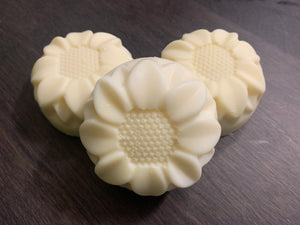 Solid Dish Soap is an all natural soap formulated to be extra cleansing for cleaning dishes or used as an all purpose cleaner (or a great stain stick) with a gorgeous lemon eucalyptus scent. Weight is 110g per bar and cost is per bar. These little cleaning powerhouses are eco friendly and plastic free.
This soap is mainly made of coconut oil which adds cleansing properties and larger bubbles in the lather, also includes a small amount of olive oil to make it nicer on the skin while doing the dishes or cleaning, and some soy wax to make a harder bar with tighter bubbles. 
Multiple ways to use this solid dish soap... You can either apply your solid dish soap to your dish cloth or pot brush or you can fill your sink or dish pan with hot water take your solid dish soap and swish it around in your water to create your lather. Wash and rinse your dishes as usual. 
This Solid Dish Soap bar can be used as an amazing all purpose cleaner or laundry stain stick. Try it out!! The only things missing are the chemicals and plastic.  
Distilled water was also used to aid in the saponification process and all oils in my soaps are saponified.
Ingredients: Coconut Oil, Water, Olive Oil, Soy Wax, Eucalyptus Essential Oil, Lemongrass Essential Oil and Lemon Essential Oil. 
INCI Name Ingredients: Sodium Cocoate, Aqua, Sodium Olivate, Hydrogenated Soybean Oil, Eucalyptus Globulus Oil, Cymbopogon Schoenanthus Oil and Lemon (Citrus Medica Limonum) Peel Oil.