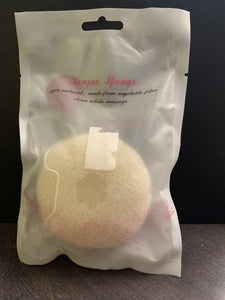 Meet the konjac sponge, a gentle cleansing exfoliator made from 100% pure, natural konjac dietary fibre. Konjac root is a porous root vegetable that grows in Asia. It is ideal for everyone because it is unbelievably soft and gentle. Known to bring back the natural glow and softness of the skin with daily use. 
Key features:
Gently exfoliates to bring back the natural glow of the skin

Kills acne-causing bacteria

Ideal for delicate and sensitive skin (can be used to exfoliate your face)

Naturally moisturizes the skin
How to Use:
Soak sponge in water and press it several times to expel the excess before using. Note these sponges are extremely hard when dry, so you want to wet until it is beautifully soft. 

Massage gently in circular motions on the face or body.

Rinse the sponge and press it gently with two hands until dry. 

Store and hang the sponge in a cool and well-ventilated place to air dry properly. Note these come with a string already attached for hanging.