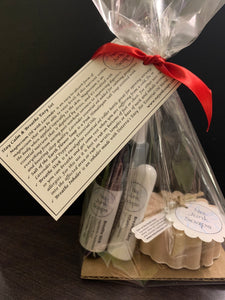 This gift set comes packaged as shown in a biodegradable, compostable gusset bag made from renewable wood pulp grown in managed plantations and includes:
Magnesium Oil with Lavender (60mL) is an easy-to-absorb form of magnesium that may be able to raise levels of this nutrient within the body when applied topically to the skin. Magnesium is an essential nutrient that is depleted by stress, and it's credited with everything from easing post-workout soreness to improving digestion and boosting sleep quality. Lavender essential oil added for calming properties.
Salt of the Earth Flower Soap is a Pink Himalayan Salt Soap scented with lavender and peppermint essential oils.
Breathe Stick is a eucalyptus essential oil roller bottle great for opening airways so you can breathe and get some rest when you are suffering from a cold, flu or allergies. For this use it is best to rub on bottoms of feet or chest. For other uses rub into the affected area or rub on wrists, temples or base of the neck and inhale aroma. 
Breathe Easy Inhaler is an inhaler made with Doterra's Easy Air essential oil blend. 

Note that when the Salt of the Earth Flower Soap sells out it will be replaced by the Fresh Canadian Soap (Spearmint Maple Sap soap).
Note the tag attached to the gift set lists the above information and the website address. For more information, please check out these products individually on this website.