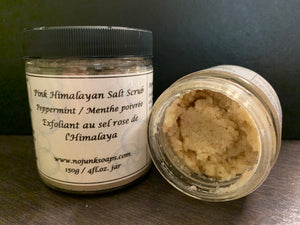 This is a combination of salts and oils to exfoliate, soften and moisturize the skin scented with peppermint essential oil. Perfect for use on every body part that needs some exfoliation. The peppermint essential oil may not only be able to help reduce muscle aches but reduce your stress at the same time.
Note this is too harsh to use on the face. If you are in need of face exfoliation look into the konjac sponge product on this website. 
Sea Salt is packed with skin-loving minerals like magnesium, calcium, and potassium. It absorbs the toxins in the body and on the surface of the skin, including acne-causing bacteria, and works to treat infections and speed up the healing process.
Himilayan salt is derived from its elements that include calcium, iron, magnesium, and potassium – all of which are essential to the human body. Not to mention, Himalayan salt crystals contain minerals that are tiny enough for the skin to absorb while providing amazing benefits to the body and mind. Some of the benefits that Pink Himilayan salt is known for are reducing oily skin, boost in rejuvenation, treat acne and body detox which can help with odor but there are many others that can be found online. 
Caution do NOT Ignore - When using Himalayan salt soap on your body, it is important to know that facial skin is thinner, making it more sensitive than the rest of the body. While the salt is non-allergenic, some may have a negative reaction to it. Thus, be sure to do a simple test patch by using the product on one area of the body. After 12-48 hours, monitor the area to see if there are any swelling, redness, rash, or itching.
Grapeseed Oil is oil leaves your skin feeling silky smooth. It has a lightweight and thin texture, and it's high in linoleic acid and antioxidants.
Peppermint Essential Oil is promoted for topical use for problems like headache, muscle aches, joint pain, and itching. In aromatherapy, it is promoted for treating coughs and colds, reducing pain, improving mental function, and reducing stress. 
Vitamin E is known to moisturize and nourish your skin. It adds to your glow and makes your skin smooth and healthy. A key ingredient to maintaining healthy skin.
Ingredients: Sodium Chloride (Sea Salt and Pink Himalayan Salt), Vitis Vinifera (Grape) Seed Oil, Mentha X Peperita (Peppermint) Oil, and D-alpha tocopheryl acetate (Vitamin E).
Comes in two sizes 75 g. in a 2 fl.oz. jar or 150 g. in a 4 fl.oz. jar.