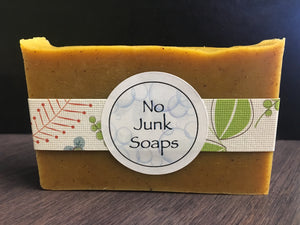 Great hand or body soap.
Nice pumpkin cinnamon scent.
Punkin' Soap is a gorgeous soap made with pure pumpkin and cinnamon. Due to these natural elements only this soap has a nice pumpkin cinnamon scent. Containing only olive oil for a creamy lather and coconut oil to add cleansing properties and larger bubbles to the lather.
Distilled water was also used to aid in the saponification process and all oils in my soaps are saponified.
Ingredients: Olive Oil, Coconut Oil, Pure Pumpkin, Water and Ground Cinnamon.
INCI Name Ingredients: Sodium Olivate, Sodium Cocoate, Cucurbita Pepo (Pumpkin), Aqua, and Cinnamomum Cassia.