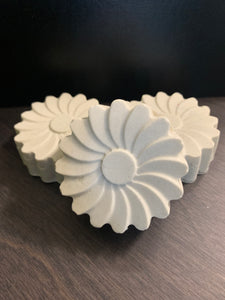 Shavin' Soap is an all natural soap formulated to be silky feel moisturizing with extra tight bubbles for use as an amazing shaving soap with a gorgeous fresh scent created by a combination of rosemary essential oil and bergamot essential oil. Weight is 80g per bar and cost is per bar. 
This soap is made with a lot of soy wax which is extremely high in stearic acid, giving this soap its incredible hardness and tight, long lasting, creamy lather - amazing for shaving. Coconut oil which adds cleansing properties, Cacao Butter adds silkiness and slip for shaving. Bentonite Clay provides gentle exfoliation which helps naturally cleanse and unclog pores and is known to be useful in treating problem skin, acne, and poison ivy.
The blend of Rosemary and Bergamot essential oils not only adds an amazing scent but are both known to be quite good for your skin.
Distilled water was also used to aid in the saponification process and all oils in my soaps are saponified.
Ingredients: Soy Wax, Water, Coconut Oil, Castor Oil, Cocao Butter, Bentonite Clay, Rosemary and Bergamot Essential Oils.            
INCI Name Ingredients: Hydrogenated Soybean Oil, Aqua, Sodium Cocoate, Sodium Castorate, Sodium Cocoa Butterate, Bentonite, Rosmarinus Officinalis and Bergamot Oil.