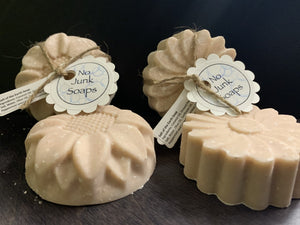 Great hand, body or facial soap.
Peppermint and Lavender essential oils used for a calming yet uplifting scent.
Salt of the Earth Soap is a pink Himalayan salt soap scented with peppermint and lavender essential oils. The unique pink hue of the Himilayan salt is derived from its elements that include calcium, iron, magnesium, and potassium – all of which are essential to the human body. Not to mention, Himalayan salt crystals contain minerals that are tiny enough for the skin to absorb while providing amazing benefits to the body and mind. Some of the benefits that Pink Himilayan salt is known for are listed below but there are many others that can be found online. 
Some of the benefits Pink Himilayan Salt soap is known for:
Reduces oily skin

 

(

This salt is known to combat sebum, which aids in getting rid of greasy skin. As an added bonus, Himalayan salt soap can disinfect the pores and cleanse the skin to prevent oil buildup.)

Boosts in Rejuvenation (the rejuvenating effect of Himalayan salt, soap with this salt can make your skin look fresher, younger, and brighter.)
Treats signs of Acne (The detoxifying effects will help remove dead skin and oils, the main culprits of acne.)
Adds in Body Detox, Can Help With Body Odor ( Salt soap can absorb sweet, mask bad odors, and even aid in total body detox.)

This soap also includes coconut oil which adds cleansing properties and larger bubbles in the lather, olive oil for a creamy lather, sunflower oil adding vitamin E and other essential fatty acids, castor oil which draws moisture to the skin and creates amazing lather. Peppermint and lavender essential oils used for scent. 
Caution do NOT Ignore - When using Himalayan salt soap on your body, it is important to know that facial skin is thinner, making it more sensitive than the rest of the body. While the salt is non-allergenic, some may have a negative reaction to it. Thus, be sure to do a simple test patch by using the product on one area of the body. After 12-48 hours, monitor the area to see if there are any swelling, redness, rash, or itching.
Distilled water was also used to aid in the saponification process and all oils in my soaps are saponified.
Ingredients: Coconut Oil, Ground Pink Himilayan Salt, Water, Olive Oil, Sunflower Oil,  Castor Oil, Peppermint Essential Oil, and Lavender Essential Oil.
INCI Name Ingredients: Sodium Cocoate,  ,Aqua, Sodium Olivate,  Sodium Sunflower Seedate, Sodium Castorate, Cymbopogon Schoenanthus Oil, and Lavandula Angustifolia (Lavender) Flower Oil.