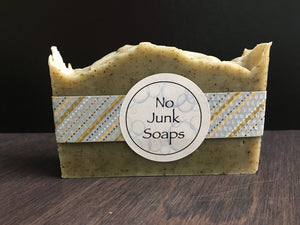 Great hand, body or facial soap.
Aloe vera juice and powdered plantain herb make this amazing soap. 
Eucalyptus essential oil used for a nice fresh scent. 
Slam Junk Soap is a great combination of aloe vera juice and powdered plantain herb. The aloe vera juice is used in place of the water to aid in the saponification process. Aloe vera is soothing, hydrating and nourishing to the skin. It is said to help make your skin look and feel suppler and younger. Plantain is very high in vitamins A and C and in calcium. Native Americans used plantain leaves to relieve the pain of bee stings and insect bites, stop the itching of poison ivy and other allergic rashes, and promote healing in sores and bruises. It is antiseptic and astringent and can help treat skin problems such as acne or eczema.
This soap also contains eucalyptus essential oil for a nice fresh scent.
This soap also includes olive oil for a creamy lather, coconut oil which adds cleansing properties and larger bubbles in the lather, sunflower oil adding vitamin E and other essential fatty acids, castor oil which draws moisture to the skin and creates amazing lather.
All oils in my soaps are saponified.
Ingredients: Olive Oil, Aloe Vera Juice, Coconut Oil, Sunflower Oil, Castor Oil, Eucalyptus Essential Oil and Plantain Herb.
INCI Name Ingredients: Sodium Olivate, Aloe Barbadensis Leaf Juice, Sodium Cocoate, Sodium Sunflower Seedate, Sodium Castorate, Eucalyptus Globulus Leaf Oil and Plantago Lanceolata.