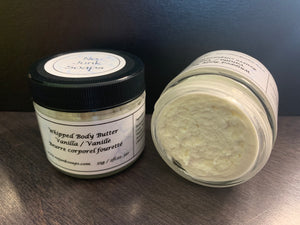 This light and luxurious Vanilla Whipped Body Butter is made by whipping a specific combination of oils and butters to hydrate and soften the skin. Perfect for use on every body part that needs some TLC or hydration.
Shea Butter is naturally rich in Vitamins A and E as well as essential fatty acids and other vitamins and minerals. Shea butter is an intense moisturizer for dry skin, and is a wonderful product for revitalizing damaged skin. 
Coconut Oil This is a great oil for general moisturizing and serves as a protective layer, helping to retain the moisture in your skin. It also acts as a mild oil suitable for those with inflamed and irritated skin, and those with skin sensitivities. 
Grapeseed Oil is oil leaves your skin feeling silky smooth. It has a lightweight and thin texture, and it's high in linoleic acid and antioxidants.
Arrowroot powder is generally used as a substitute for cornstarch, which is highly processed and difficult to source in non-GMO varieties. In this recipe, arrow root powder is added in help with greasy feeling.
Vanilla Essential Oil (Absolute) is known for its comforting, uplifting and relaxing aroma. (What is an absolute? Some flowers and beans, like Vanilla and Jasmine, are extremely fragile and cannot endure the conditions required for steam distillation. Food Grade solvent extraction is used to produce a rich, authentic absolute that can be ingested.  Vanilla Absolute is used like essential oils to create beautiful aromas and flavors.)
This body butter can be used by all skin types, as the ingredients do not clog the pores. Please note that it is very luxurious and a little goes a long way, so apply sparingly.
Ingredients: Butyraspermum Parkii (Shea) Butter, Cocos Nucifera (Coconut) Oil, Vitis Vinifera (Grape) Seed Oil, Maranta Arundinacea (Arrow) Root, and Vanilla (Absolute) Planifolia Fruit Extract..
Comes in two sizes 35 g. in a 2 fl.oz. jar or 60 g. in a 4 fl.oz. jar.