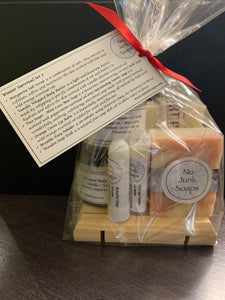 This gift set comes packaged as shown in a biodegradable, compostable gusset bag made from renewable wood pulp grown in managed plantations and includes:

Margarita Salt Scrub (75g 2 fl.oz. jar) is a combination of salts and oils to exfoliate, soften and moisturize the skin scented with lime and wild orange essential oils. 

Vanilla Whipped Body Butter (35g 2 fl.oz. jar) is a light and luxurious butter made by whipping a specific combination of oils and butters to hydrate and soften the skin scented with vanilla absolute (essential oil).
Two soaps - Mint Coco Moo Soap is a luxurious, moisturizing, coconut milk soap scented with peppermint essential oil and Oatstanding Soothe Soap is a wonderfully soothing, exfoliating, unscented soap made with ground oatmeal. 

Orange Cocoa Splash Lip Balm is a beautifully moisturizing, all natural lip balm with wild orange essential oil added for scent and flavour.
Breathe Easy Inhaler is an inhaler made with Doterra's Easy Air essential oil blend. 

Wooden Soap Dish is a natural pine soap dish cut to allow water to drain. 
Note that when the Mint Coco Moo Soap sells out it will be replaced by the Slam Junk Soap (Eucalyptus and Plaintain soap) or the Calm Combo Soap (Lavender and Plaintain soap).
Note the tag attached to the gift set lists the above information and the website address. For more information, please check out these products individually on this website.